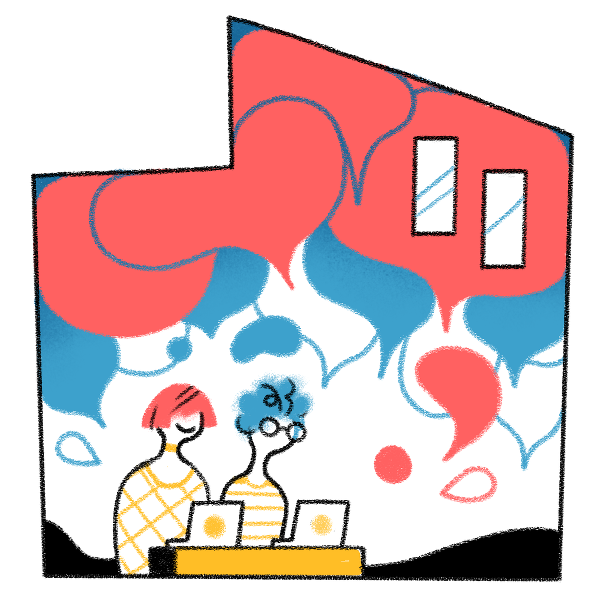 Join our Slack Chat
Our Slack workspace is our flagship online community. More than 3,500 users chat in dozens of channels focused on a variety of topics important to the C&S community.
Slack is the best place to get updates on our Job Board and our community in general, including conference announcements before they're advertised anywhere else.
It's the official communications channel of our Workspace community, too.
Find a new opportunity, find a new friend, chat about things you care about, and build the software community together. Users are encouraged to start new channels as discussion of a topic outgrows other rooms.
Please read these next few sections before delving into the Slack workspace using the inviter link below.
Slack Community Guidelines
We're excited to welcome everyone we can to our Slack community. Here are some general guidelines for you so that we can maintain that welcoming feeling for everyone.
Our Conduct Policy applies to our Slack workspace the same as it does our in person events.
Text based conversations don't have the same intricacies of verbal communication. Assume best intent from the person on the other side of the conversation and take care to word things well and be understanding.
Weekends and evenings can have their lulls in activity. When you first join, hang out for a while and check back often.

#-announcements is low traffic. Consider setting it to notify you on all posts to it.

Our community works best when you install the Slack desktop and mobile apps and add our workspace. Make sure you remember to set it up when you get a new device! Most companies allow adding any workspace to Slack on your work computer! Double check if you're not sure.
The use of "@here" and "@channel" has been disabled for non-admin users.
Do not use information garnered from chat channels to adversely affect someone's career, even if the channel does not protect information under the Chatham House Rule or similar expectation of privacy. Our community thrives on honest communication and feedback, and sometimes that means asking about company policies, disciplinary actions, job offers, and other high-stress situations, or being wrong about something in a community eager to help others learn and grow. Companies that use information garnered from chat channels to take disciplinary action against an employee are not quickly forgotten by the community. Users who violate this expectation may be removed from chat system.
Job posts are not welcome in the main chat room. We have a

#job-board

room for that purpose. Jobs posted to the Job Board are automatically syndicated to that channel and others, so consider using that functionality to post your job!
Do not direct message users offering a job or your services without that user explicitly soliciting for such a service. For example, offering recruiting services to someone who just posted a job in

#job-board

is a fast way to be reported in

#-conduct-violations

because soliciting without arrangement with C&S violates the Conduct Policy.
Do not join the Slack workspace and immediately begin promoting something in #chat. Find the appropriate channel, such as #side-projects or #online-events. If you're promoting something that will benefit you, you should talk to an admin because soliciting without arrangement with C&S violates the Conduct Policy. Repeatedly promoting something without an arrangement may lead to C&S invoicing your organization for the self-service promotional engagement at our highest rates.
Do not create a fake identity with intent to mislead, defraud, harass, or advertise to others. This includes a prohibition on using an AI-generated profile picture that looks like a real person but not like you. Clearly artistic renditions of you are acceptable, though.
Staying safe in a large community
If something doesn't feel right, check the C&S Conduct Policy to see if it's not aligned with our policy. If it's not, or you're unsure, you should report it to the

#-conduct-violations

Conduct Team.
We recognize that some users may desire a certain level of anonymity in order to ask questions in a community that may have coworkers or their manager in it. We encourage you to use your real name but do not require it presently.
Beware of intermediary scam behavior. If a user asks to start a business with you, in your name, and to split proceeds with them doing all of the work, or if they want you to receive a check and buy something with it to ship to them, it's a scam and you should report it to the

#-conduct-violations

Conduct Team.
Chatham House Rule
Some channels operate under the Chatham House Rule in order to encourage discussion of difficult topics. Based on Chatham House's current rule, available at the previous link, our local interpretation is this:
When a channel operates under the Chatham House Rule, participants are free to use the information received, but neither the identity nor the affiliation of the speaker(s), nor that of any other participant, may be revealed.
Channels operating under this rule will bear notice in the topic, purpose statement, or both. Additionally, some rooms may have an automated notice displayed periodically to remind participants that the room has this rule. Examples of rooms following this rule are #mental-health and #venting but others may have adopted the policy, too. Before sharing sensitive information from a channel outside of Slack, check the channel's topic message for a note about the CHR.
Violating this expectation is a violation of the Conduct Policy.
Join Slack
You're not logged in. Please login or create a C&S account to request to join the C&S Slack workspace. If you're not automatically redirected back here, return to this page once you are signed in with your C&S account and this message will be replaced with an "INVITE ME" button.
Highlighted Channels
Once you're on our Slack workspace, check out some of our most popular channels.
#chat

: The main room where all kinds of discussion is welcome

#job-board

: Job posts and job solicitation

#freelance

: Freelance jobs and discussion about doing your own thing

#careers-and-worklife

: Discussion of careers in tech, worklife balance, interviewing, and more

#mental-health

: open and friendly discussion about mental health issues

#lang--python

: discuss the Python programming language, with others for JavaScript, Ruby, Rust, and more

#engineering-mgmt

: sharing and learning how to manage engineers and projects

#architecture

: discussion about system-level design thinking and leadership

#pgh--living-in-pgh

: discussion about goings-on in Pittsburgh, where many members are located

#til

: (today I learned) fun and useful things recently learned by our community members

#media--videogames

: talk about games, find people to play with

#YELLING

: get it out, IN ALL CAPS. More open to feedback? Check out

#venting

or check out

#screeching

if you just need to pound the keyboard a bit.
Join our Discord Chat
Discord is popular chat serviceaimed at gamers and other teams that use voice chat frequently. C&S' gaming enthusiasts coordinate group playing sessions every now and then using it. Also, some C&S members will use Discord audio when they are livestreaming their coding, generally through Discord or Twitch.tv. It's also the best place other than YouTube or Twitch to get official C&S livestreamingnotifications. See the videos for more information.
C&S doesn't currently maintain open invitations to its Discord server. If you're interested in joining it, join the Slack workspace first and join the #media--videogames channel, wherein you can request access to the Discord server.